Black Friday SALE! Up to 75% OFF Sitewide! PLUS FREE GIFTS
Spend $200: FREE Massage Roller
+ Spend $500: FREE 1L Gym Bottle
+ Spend $1000: FREE Eye Massage
+ Spend $2000: FREE Gym Floor Mat
+ Spend $3000: FREE Step Board
+ Spend $5000: FREE Hex Shrug Bar
Gifts automatically added to cart!
Welcome To Oli Joy Sports
Oli Joy Sports is Brisbane's Number 1 fitness, exercise & gym equipment wholesaler & retailer. We offer the best equipment for your budget and specific needs with Fast Shipping Australia-wide.
We specialise in a range of gym, fitness, exercise and cardio gear suitable for home, corporate & commercial use. 
Our equipment is shipped fast from our warehouse in Darra, Brisbane, which is also open 7 days a week for you to visit.
SALE! Big Price Drops ending soon
NEW Functional Trainer / Cable Crossover Machine
The ultimate addition to your home gym (or for commercial use)! Perform any cable exercise with our high duability machine.
Our Best Selling All In One Power Rack w/ Lat Pull Down & Low Row
Not just a Squat Rack! Our Commercial Quality Power Rack features a built in Lat Pull Down Row and Low Row, so you can perform a multitude of exercises and replace every machine at the gym!
Shop Online With Fast Delivery
Our warehouse is ready to ship products to you fast! As one of Brisbane and Australia's only dedicated Gym Equipment suppliers, our products are sent directly from our Darra Warehouse in Brisbane.
That means faster shipping and less hassle with shipping to all cities in Australia. That's right! We provide super fast shipping Australia-wide - all metro and rural areas included.
Browse our product range and shop with confidence today!
Shop Now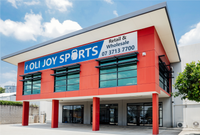 Visit our showroom in Darra!
Visit us today at our showroom in Darra, Brisbane, Australia, to build your home gym, setup your commercial gym or upgrade your personal training studio. Our warehouse has everything you need to build the ultimate gym.
Our product range includes Weights, Power Racks, Squat Racks, Benches, Barbells, Dumbbells, Kettlebells, Resistance Bands, Bumper Plates, Attachments, Yoga Equipment, Massage Equipment, Boxing Equipment and much more!
We're open for all customers to come and visit us in Darra, Brisbane - 7 days a week Monday to Sunday! Click below to get directions on Google Maps.
Get Directions
Build your own BUNDLE & Save Up To 15% For A Limited Time!
Use our Bundle Builder to choose your equipment including Power Racks, Weight Plates, Barbells, Dumbbells, Benches, Accessories and more! The more you add, the more you SAVE!
Go To Bundle Builder
Shop Gym Equipment Online with Fast Australia Shipping
Buy Online or Visit us in Brisbane
You don't have to go to a physical gym store to buy equipment. Our online store displays details of various gym equipment and their prices. Whenever you need new gym equipment, all you have to do is click on a button, and we will deliver it to your doorstep anywhere in Australia! Our ability to bypass the middleman ensures that we can sell gym equipment at low prices. If you want to view the actual equipment before buying, we have a physical store in Brisbane.
From the occasional discounts on power racks to reduced prices on dumbbells, you will definitely save some money when you buy some of our equipment. We only produce commercial-grade gym equipment in Brisbane with the latest safety enhancements and features. Contact us now for more information or to place your order.
Gym Fitouts & Commercial Quality
Creating your dream studio is a straightforward process if you use our equipment. We can come up with a customised gym plan to fit your space, budget, and needs. You can't get it wrong with our benches, multifunction stations, barbells, and dumbbells. You don't have to worry about quality if you are using an experienced gym equipment supplier, such as Oli Joy Sports, to get the most durable equipment in Australia. Whether you want a big or small gym, we will be able to fit it quickly.
Do you offer fitness and weight loss services? Well, perhaps it's time to get new gym equipment online and upgrade your fitness centre. Oli Joy Sports can provide training equipment for a commercial gymnasium, hotel, apartment, or personal studio.
Australia Wide Shipping

Fast Dispatch from Brisbane | High Quality Products | Excellent Customer Service
Australia Wide Shipping
Fast Dispatch from Brisbane | High Quality Products | Excellent Customer Service
Shop All In Stock Products